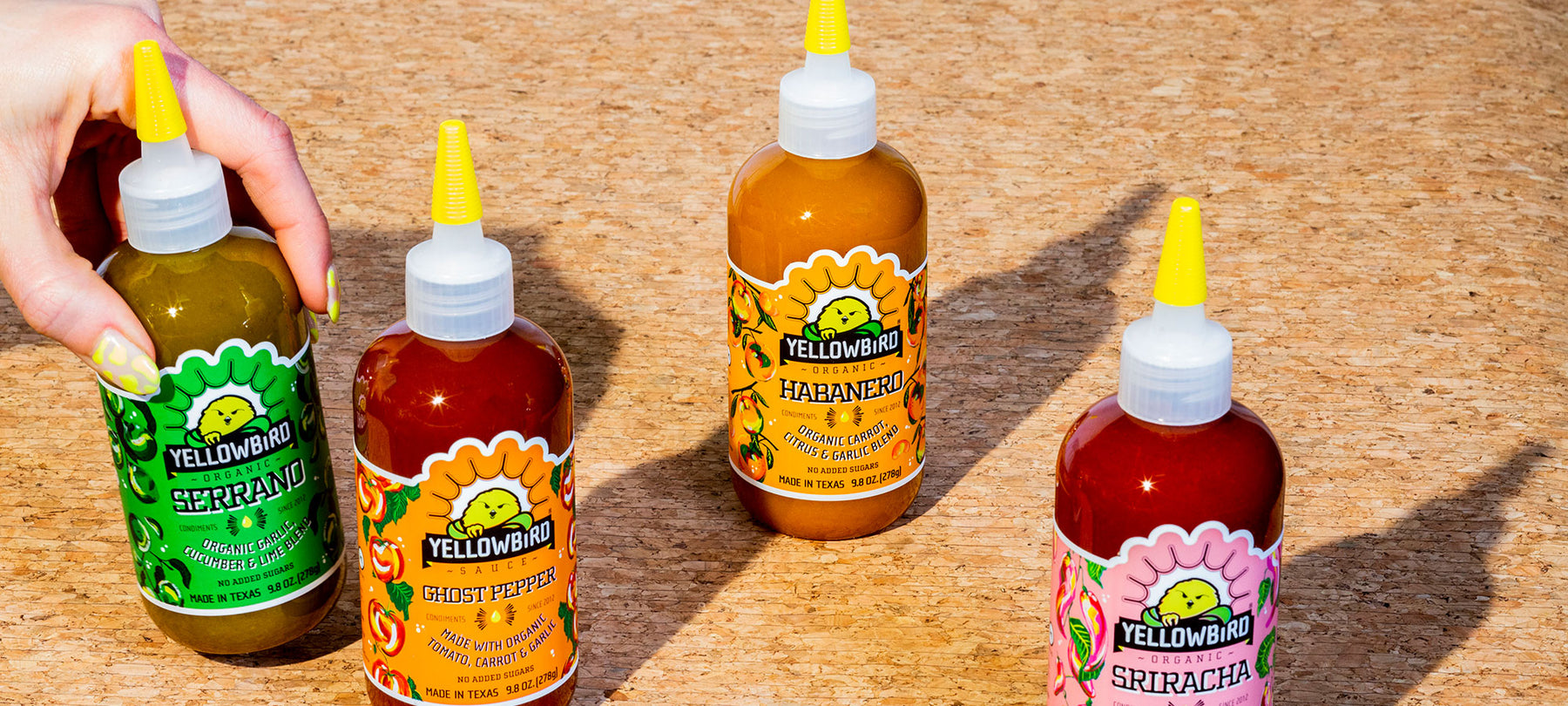 The Bird Goes 100% Organic!
FROM THE FARM TO OUR KITCHEN TO YOUR TABLE
We ditched the sugar!
Yellowbird Foods was founded on a strong love for all things spicy, flavorful and healthy. Since we kicked off our adventure in 2012, we've been dedicated to making a hot sauce that's delicious and packed full of fresh produce in every bottle and passionate about using real ingredients that you can recognize and pronounce, with zero nasty preservatives or fillers. Yellowbird isn't your average watered-down hot sauce and we call it a condiment because you gotta give us a good squeeze.
In our Original line, we use Organic Carrots, Organic Vinegar and Organic Cane Sugar, making the whole product roughly 50% Organic already.
However, we wanted to go a step further.
We decided to make a new line of 100% Certified Organic sauces without the use of cane sugar, making these flavors Whole30 Approved, PaleoVegan and Keto Certified, Non-GMO, Gluten-Free, and tasty as fresh-squeezed lemonade on a hot summer day.  
How do we sweeten our new sauces, you might ask?
Dates – no, not the kind that ends with a kiss goodnight – but organic dates: nature's candy! We also use raisins and tangerine juice to give just the right amount of sweet, still with the perfect level of heat.
Will these flavors taste different from the Original line?
Slightly, but the flavor profile on each will be very similar, and the ingredients are almost identical, simply swapping organic dates and raisins in place of organic cane sugar. The biggest difference you'll notice flavor-wise will be between our Blue Agave Sriracha and the new 100% Organic Sriracha. Because Blue Agave Nectar is such an elemental ingredient in our original Sriracha recipe, the 100% Organic Sriracha has a fruitier sweetness in comparison.
Why is the 100% Organic line slightly darker in color?
Again, because we use dates and raisins, these new ingredients add a deeper, darker color to all the Organic sauces.
Organic Carrots
Onions
Habanero Peppers
Organic Distilled Vinegar
Garlic
Organic Cane Sugar
Tangerine Juice Concentrate
Salt
Lime Juice Concentrate
Love In Every Drop
Organic Carrots
Organic Onions
Organic Habanero Peppers
Organic Distilled Vinegar
Organic Garlic
Organic Tangerine Juice Concentrate
Salt
Organic Dates
Organic Raisins
Organic Lime Juice Concentrate
Organic Habanero Condiment