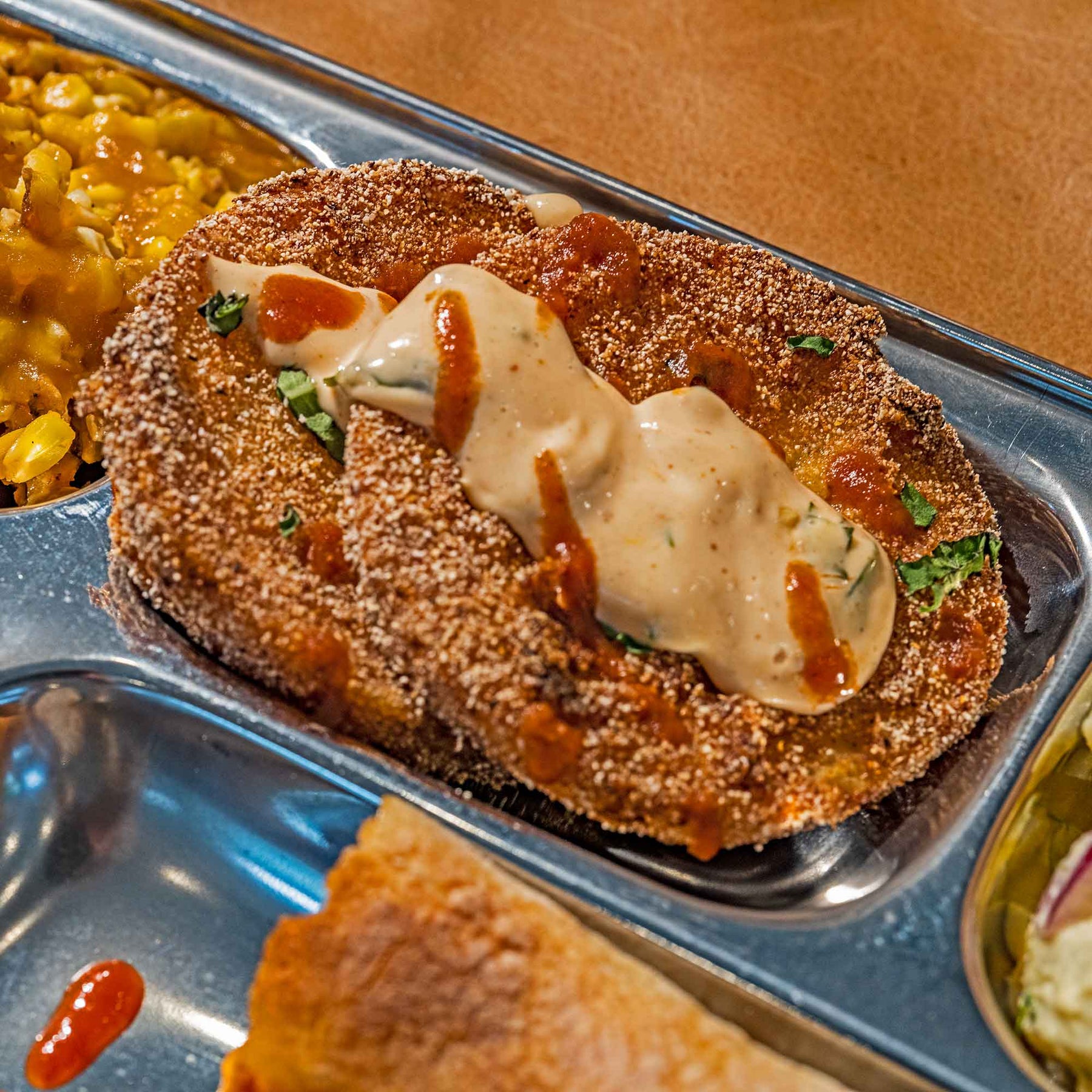 Classic Ghost Pepper Fried Tomatoes
Ingredients:
FOR THE FRIED TOMATOES:
3 large yellow heirloom tomatoes, cut to ½" slices
1 C. all-purpose flour 
¾ C. yellow cornmeal
2 teaspoon season salt, divided
2 large eggs
2 tablespoons buttermilk
1 lemon, halved
6 basil leaves
1 quart vegetable oil, for frying

 
FOR THE DIP
Instructions:
FOR THE FRIED TOMATOES
Slice tomatoes ½ inch thick and lay flat on a paper towel to remove excess water. Sprinkle slices with salt and let rest for 10 minutes to draw out the moisture. Dab tomatoes with a paper towel to remove the extra moisture.


Meanwhile, add oil ½ inch deep to a fry pan over medium-high heat.


Prepare your dredging station: place 1 cup flour and 1 teaspoon season salt on a deep plate. On a second deep plate, whisk together cornmeal and 1 teaspoon season salt until blended.


In a shallow bowl, whisk together eggs, buttermilk, and Yellowbird Ghost Pepper Hot Sauce.


Take one tomato slice and coat in flour mixture, then in wet batter, then in cornmeal mixture. Place the dredged tomato onto a clean sheet tray and repeat with remaining tomato slices.


When the oil is at 350°F, drop in your dredged tomatoes, working in batches, and fry each side for 2 minutes, flipping gently.  Remove from oil and allow to cool on a paper-towel lined sheet tray.


Chiffonade basil leaves. Arrange tomatoes on a plate and squeeze one lemon half over the fried tomatoes and sprinkle with basil. Serve with the suggested dip recipe below and savor.

 
FOR THE DIP
In a small bowl whisk together the mayonnaise and the ghost pepper. Fold in the basil and serve alongside the fried tomatoes. Dunk, spread, or dip 'em.