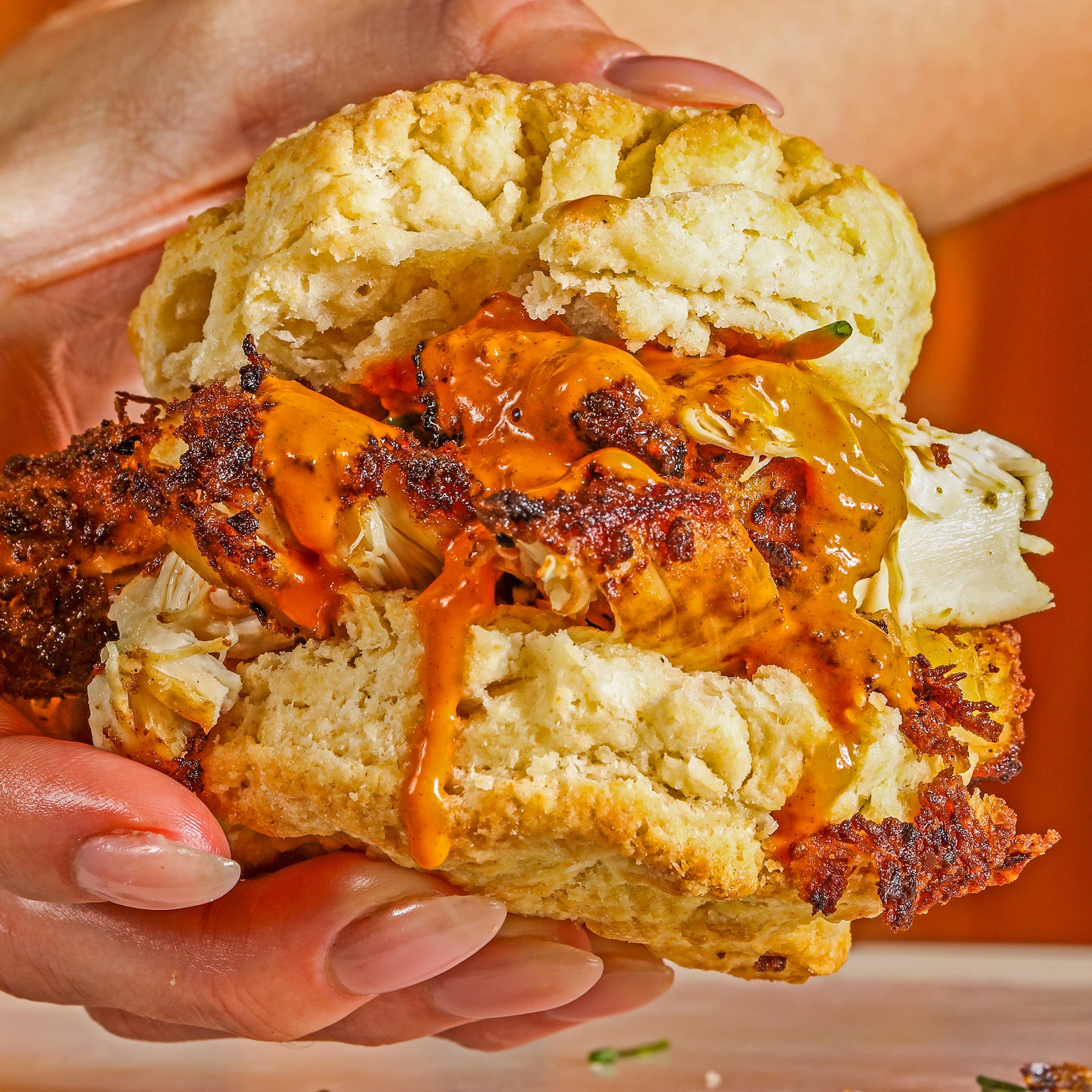 Spicy Crispy Fried Chicken Sandwich
Ingredients:
FOR THE MARINADE
2 Lbs Boneless, Skinless Chicken Thighs
2 C. Buttermilk
2 Tsp. Salt
FOR THE BREADING
2

 

¼

 

C. All Purpose Flour
2 Tsp. Salt
1/2 Tsp. Black Pepper
1/2 C. Shredded Coconut, optional
Vegetable Oil, for frying
FOR THE FINISHING SAUCE
Instructions:
FOR THE MARINADE
Place the chicken in a large bowl and season with salt. 
Pour the buttermilk on top, making sure the chicken is submerged. 
Cover, and allow chicken to marinate in the fridge for 1 hour minimum, up to 24 hours.
FOR THE BREADING
Remove the marinated chicken from the fridge; set aside.
Preheat a deep pot with vegetable oil – make sure the oil is about half-full in the pot. Using a thermometer, heat oil to 350ºF.
Whisk together the coating ingredients in a large bowl: all-purpose flour, salt, pepper, and shredded coconut, if using.
Transfer the marinated chicken into the coating mixture, one at a time, making sure some of the marinade drips into the bowl: the droplets of marinade create a craggy texture (aka the crispy flaky bits on the chicken) that will adhere to the chicken. Liberally coat the chicken, making sure to press and toss to get into all the nooks and crannies.
FOR THE FRYING
Carefully drop the chicken in and fry until golden brown with an internal temperature of 165F, about 12-15 minutes.
While the chicken cooks, prepare a sheet tray lined with a cooling rack; set aside.
Once the fried chicken is ready, remove from oil and lay onto the rack to rest; about 4 minutes.
FOR THE FINISHING SAUCE
Transfer the fried chicken into a large bowl, pour the Bliss & Vinegar evenly over the fried chicken and toss to coat. Remove from the bowl, brush on any leftover sauce, and serve immediately.